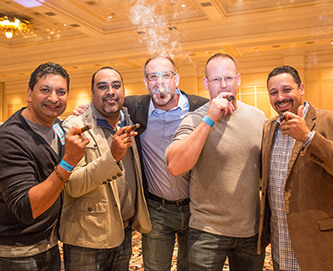 *Limited Quantities of Early-Bird Tickets Available.
Regular Prices: All-Access - $925, Weekend Package - ($725), Big Smoke Evening VIP - $425, Big Smoke Evening General Admission - $375
Don't Miss the Best Weekend of the Year!
The three-day event includes two Big Smoke evenings, and exciting daytime seminars with Cigar Aficionado editors and renowned cigar makers from across the industry. Collect and enjoy premium cigars while you sip premium spirits and beer among fellow aficionados.
Weekend Seminars
Top 3 Cigars of 2017
The tradition of sharing the top cigars of the year as presented by their makers continues with an extraordinary trio.
• Jose Oliva presents the Oliva Serie V Belicoso
• Jorge Padron presents the Padrón Serie 1926 No. 2
• Carlos Fuente Jr. presents the Arturo Fuente Eye of the Shark
The New King: Nicaragua
Nicaragua has just taken the throne of largest cigar producing country in the world. A discussion about Nicaragua's past, present and future with Rocky Patel, Nestor Andres Plasencia and Alejandro Martinez Cuenca of Joya de Nicaragua.
Cult Cigars
A panel with cigarmakers who make some of the hottest cigars on the market. Panelists include:
• Dion Giolito - illusione
• Pete Johnson - Tatuaje
• Kyle Gellis -Warped Cigars
Stay tuned for the full schedule including Roll Your Own Cigar, Cuba Panel, Cigar Lover's Breakfast & Cocktail Demo.

For answers to frequently asked questions, click here.